News
December 27, 2021
Two Scottish newspapers, The Sunday Post and The Press and Journal, have just published interesting feature articles about Alistair MacLean in connection with "a new BBC Alba documentary" to mark next year's centenary of MacLean's birth. (Those links lead directly to the articles.) I was excited to learn of this documentary ... until I discovered that BBC Alba is a Gaelic-language channel. At least the articles are in a language I understand!
March 4, 2021
A site reader has informed me that the film of The Secret Ways was released on DVD this past October. While I feel it didn't nearly live up to the book, MacLean fans will likely find it worth watching. Check with your usual DVD suppliers.
August 10, 2020
The Press and Journal, a newspaper serving northern and highland Scotland, printed a substantial and interesting article about MacLean today. It includes biographical notes; nice photos from his younger days; and reminiscences by his niece Shona MacLean, an author in her own right.
March 28, 2020
I've just learned that Jack Webster, author of Alistair MacLean: A Life, passed away on March 17 at the age of 88. While I found it sometimes overwritten, as described in my review, his book was a reverent biography that provided a rich lode of background information about MacLean's life before and during his literary career. Here's a respectful tip of the cap to Mr. Webster.
October 4, 2018
Today marks the apparent UK publication of the book 'Broadsword Calling Danny Boy': Watching Where Eagles Dare by the English novelist and essayist Geoff Dyer. Marking 50 years since the release of this classic MacLean-based film (he wrote both the book and the screenplay), 'Broadsword Calling Danny Boy' supposedly gives scene-by-scene ruminations about the action, dialogue, and performances. U.S. publication is scheduled for February 12th. I'm looking forward to reading someone else's perspectives on this over-the-top, campy film where disbelief must be suspended while Richard Burton and Clint Eastwood battle masses of elite troops in a remote setting where plot twists abound.
August 28, 2018
This news is actually from Feb. 13, 2018, but I'm just getting around to mentioning it. On that date, The New York Times published an article titled "In Praise of Alistair MacLean and the Male Romance" by Alessandra Stanley. She described her [changing] views on the romance angles in MacLean's novels, beginning in her youth and leading on toward a more adult view of thrillers and love interests. A fairly short piece, well worth a read.
July 15, 2017
This isn't actually "MacLean News," but it's a bit of human interest. On a recent trip to Scotland, I stayed at the Torguish House bed and breakfast, which was Alistair MacLean's childhood home (while his father served as minister in a nearby church). Advertisements for this establishment used to play up the MacLean angle quite a bit, but it's an afterthought now. Few traces of his legacy are visible in the house, the main one being a set of black-and-white photos (in the breakfast room) of young Alistair and his family members. The house is currently up for sale, as mentioned in the "MacLean News" note from January 11, 2013.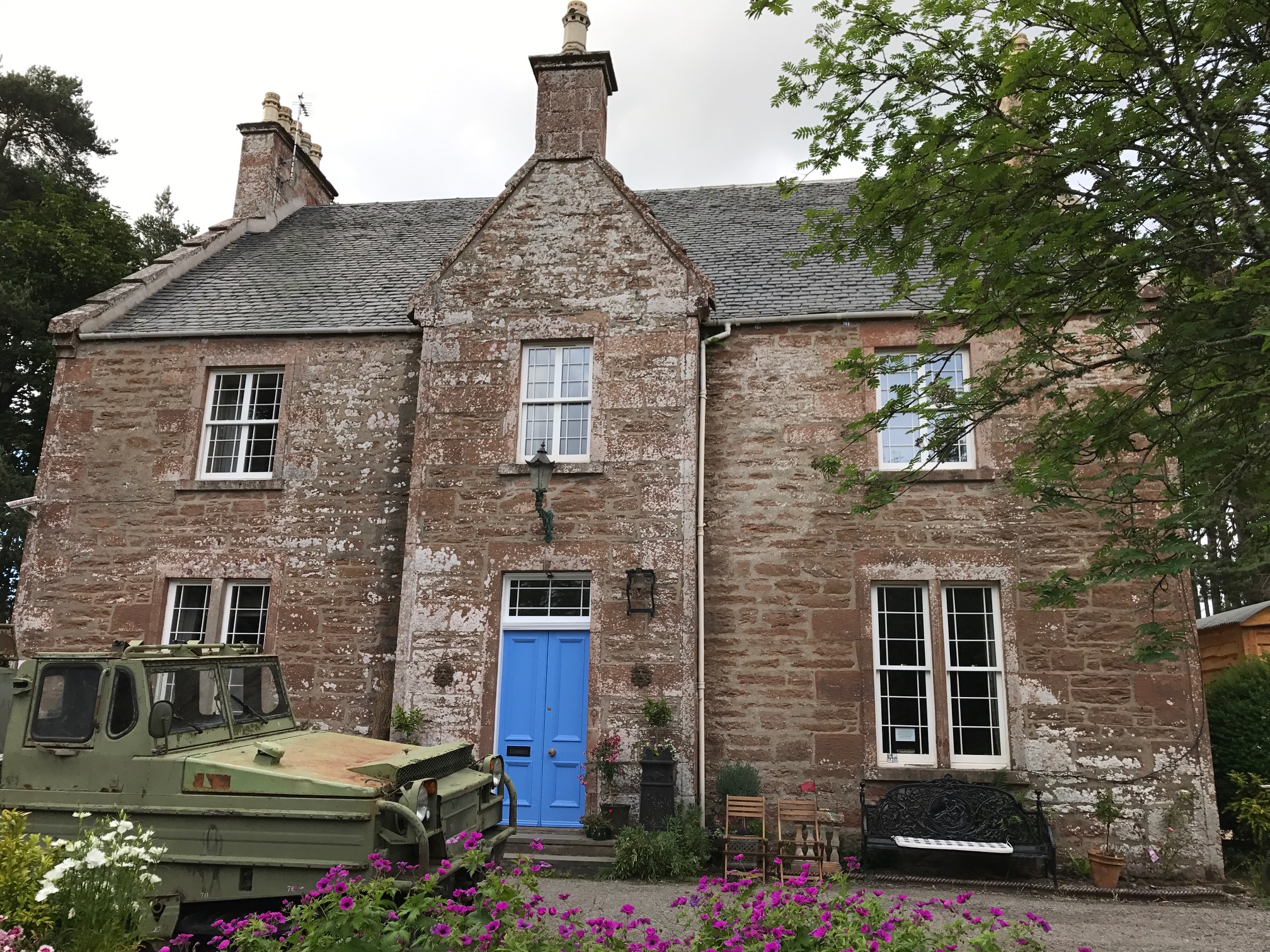 Torguish House
May 15, 2016
According to an article on the Deadline Hollywood website, MacLean's book Fear is the Key is being filmed for the second time. One of the producers of the remake, Cassian Elwes, is the stepson of Elliott Kastner, a producer of the first film. (Elwes is also the brother of The Princess Bride star Cary Elwes.) No release date is mentioned.
March 26, 2016
A site reader recently alerted me that the film When Eight Bells Toll is now available in BluRay and U.S. (region 1) DVD formats from Kino Lorber. Good to know!
September 11, 2014
Just a footnote to yesterday's death of actor Richard Kiel: while best known as "Jaws" from some James Bond films, he also played a villain in the film version of Force 10 from Navarone. His role differed greatly (in unfortunate ways) from the way his character was portrayed in the book, but this massive actor's physical presence always made him interesting to watch.
September 8, 2014
This isn't news per se, but I thought it was worth mentioning. A fellow named Simon has recently started posting detailed, insightful reviews of MacLean's first 16 novels (from HMS Ulysses to Bear Island) on his website. He has a lot of thought-provoking things to say about MacLean's stylistic habits and about each book's strengths and weaknesses. As of this writing, he's posted ten reviews. See them here.
July 9, 2014
I just discovered that the film Air Force One is Down is available on iTunes. Based on a story written from a MacLean plot, this 2013 production was licensed to TV networks in various countries as a two-episode miniseries. Jeremy Sisto and Linda Hamilton are among the "name" actors it features. I haven't read any books in the UNACO series, but MacLean fans may want to give this film a look.
March 7, 2013
Warner Bros. has announced plans to remake the film Ice Station Zebra, with Christopher McQuarrie in the director's chair. He's known for writing, producing, and/or directing such films as The Usual Suspects, Valkyrie, Jack Reacher, and The Way of the Gun. MacLean fans certainly hope the new film is an improvement on the original 1968 Ice Station Zebra movie.
January 11, 2013
Want to own Alistair MacLean's former home? Located outside Inverness, in the Scottish Highlands, it has been converted to a guest house (with four separate cottages). See details here.
August 31, 2012
Today's edition of the Scottish newspaper The Press and Journal contained a nice interview with Alistair MacLean's niece Shona MacLean, who (as mentioned in my April 24 entry) is also an author. She mentions her uncle several times and even tells a funny story about him. See the article here.
July 3, 2012
I received a note from Steve Soboroff, a social leader in the Los Angeles area, mentioning that he had won an auction for a typewriter used by Alistair MacLean to write some of his later books. You can see the listing here, on the website of the Bonhams auction firm. (Another of MacLean's typewriters is the "artifact" mentioned in my December 2, 2011 entry [below]; I don't yet know when that will be offered for sale.) Soboroff collects typewriters used by prominent people, ranging from Ernest Hemingway to the Unabomber; see an article on him, and his hobby, here.
(P.S. [August 27]: Mr. Soboroff has posted a photo of the typewriter, which has a European-style [non-QWERTY] keyboard, here.)
June 21, 2012
The cast of the television serialization of Alistair MacLean's Air Force One is Down [see July 13, 2011 entry on this page] has been announced. Linda Hamilton, best known for a lead role in the Terminator series, will star as the United States President, who is captured by "a Serbian strongman" after her plane crashes. Some other well-known cast members include Jeremy Sisto (Law & Order, Suburgatory) and Amanda Donohoe (L.A. Law, The Madness of King George). The CEO of Sonar Entertainment boasts that this miniseries will feature "a taut, edgy script inspired by the legendary Alistair MacLean"; the book was written by John Denis, supposedly around a plot suggested by MacLean, so it has only a tangential connection to Alistair himself. Visit here or here for more information about the casting for this miniseries.
June 15, 2012
Warner Brothers Home Video has announced that it will release Ice Station Zebra on Blu-ray Disc on October 9th — two weeks short of the 44th anniversary of its theatrical release. While not one of my favorite MacLean-based films, it does enjoy a wide following. (Click here
to place a pre-order through Amazon.com.)
April 24, 2012
News tangentially related to Alistair MacLean: his niece, Shona MacLean, who writes historical novels based in 16th- and 17th-century Scotland, has been pressured into changing her pen name to S G MacLean "to make her novels more appealing to men." (Are we really that shallow?) Find more details in this article from The Scotsman.
December 2, 2011
I have just received word that Gisela MacLean, the author's first wife, recently passed away. Though this is sad news, I will soon have an announcement about a rare opportunity regarding an Alistair MacLean artifact that was in Gisela's collection. Check back here for an update (I'm sorry I don't know exactly when it will come).
September 13, 2011
Sony Pictures has announced that it will release The Guns of Navarone on Blu-ray Disc next month. See details here.
July 13, 2011
I just discovered that Powercorp, a British producer and distributor of TV movies and miniseries, is creating four miniseries based on Alistair MacLean's work. These are the titles:
Alistair MacLean's Air Force One is Down
Alistair MacLean's The Catch
Alistair MacLean's The Dark Crusader
Alistair MacLean's Puppet on a Chain
The good news is that these miniseries are being produced. The not-as-good news is that, according to the capsule descriptions on Powercorp's website, their plots are wildly different from anything MacLean wrote.
For example, the book The Dark Crusader (sold in the U.S. as The Black Shrike) pitted British intelligence against an Asian-based conspiracy to steal nuclear missiles from a Polynesian island. In Power's version, though, the enemy is "La Fontaine, an extreme right-wing operation whose membership penetrates the governments of every west European state. Their plan: to release Dark Crusader, a horrific biological weapon, into Europe's immigrant population in a bid for total ethnic cleansing."
The Puppet on a Chain miniseries' description begins: "When ex-British Army Officer Paul Sharman travels to Amsterdam to reconnect with his anarchic little brother Danny, their short lived reunion ends in tragedy at the airport. A young, drug addled woman advances towards Danny carrying a bomb in her backpack. As it is detonated, he is caught in the explosion, dying in Sharman's arms." In the book Puppet on a Chain, Paul Sherman visits Amsterdam to connect with a colleague ... who is shot ... by a man.
Power's other two miniseries hold little obvious promise either. The book Air Force One is Down is based on a MacLean-penned plot, but written by someone else of presumably lesser talents. Meanwhile, the miniseries The Catch is "based on the best-selling novels by Alistair Maclean" — whatever that means, as he didn't write a novel called The Catch. Will this be some hodgepodge of MacLean-esque thriller bits?
If you are in Britain and view any of these miniseries, I'd like to hear your assessment; please drop me a line at: .